It's Thursday, so let's do like we do when the other team hits a home run. THROW IT BACK.
To Magglio Ordoñez, one of my favorite Tigers of all time.
Not long ago, I lamented the fact that Magglio is no longer a Tiger. I know he's been retired for a minute, but I don't think I will ever stop missing him. I hated the way fans treated him at the end of his time in Detroit. They betrayed him worse than his aging body had, despite the fact he gave Detroit great memories and helped make the Tigers relevant again.
In seven years with the Tigers, Magglio put together an .312/.373/.476 triple slash line. His best year in Detroit was 2007, when he hit a career-high (and completely ridiculous) .363/.434/.595 with 28 HR and 139 RBI while finishing second in MVP voting to a performance-enhanced A-ROID. Now that I'm thinking about it, someone needs to strip that douche-nozzle of his award and give it to Magglio. I know just the guy.
The image above will always be the most iconic of Magglio, but it's not often the first thing that comes to mind when I remember his time with the Tigers. When I think of Maggs, I think of the guy who seemed to be able to hit singles at will, staying inside the ball and swatting it between first and second base with ease. Whenever the Tigers needed a hit or an RBI single, ol' Maggs seemed to deliver. Which isn't to take away from his dingers, of which he hit plenty. Do you guys remember the time he hit two in the same inning?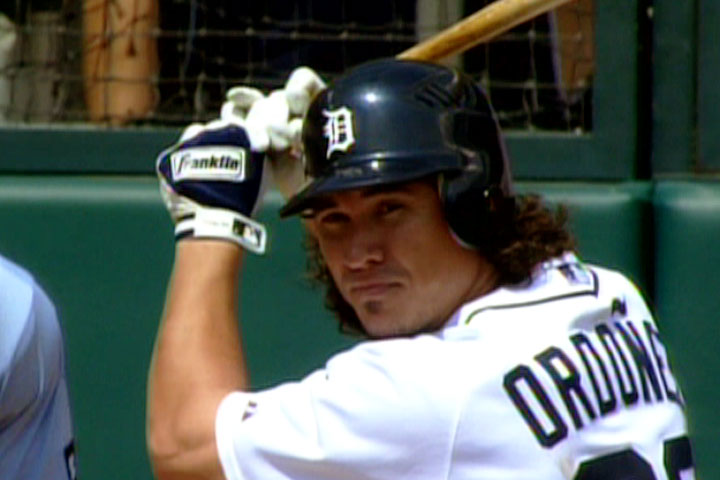 Man, that was dope. The A's must have hated that guy.
Long live Magglio Ordoñez.
Go Tigers!